Hello everyone! I'm sorry I'm running late with this post but I'm here now. Today I want to feature a site called
Everyday Cricut
.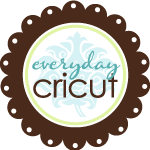 OMG! Joy and Melanie make magic happen with a Cricut, a cartridge and some paper! Every day there is a new project posted using one of the Cricut machines. There is usually one cartridge highlighted on the project. I really like how they make you 'see' a cartridge in a whole new light. There are cartridges I think I wouldn't possbily use but then a project is done with it and that cartridge immediately goes on my must have list. There are also video tutorials on the Cricut, Gypsy and various project techniques. Oh, did I mention they have a weekly giveaway for a cartridge?! Here are some links to a just a few of my favorite projects:
I better stop now. I hope you get a chance to check out Everyday Cricut. There is so much inspiration and ideas there. You are sure to find something to inspire you and maybe add more to your "must have" list. Sorry about that part!
Have a great weekend!
Hugs,
Michele